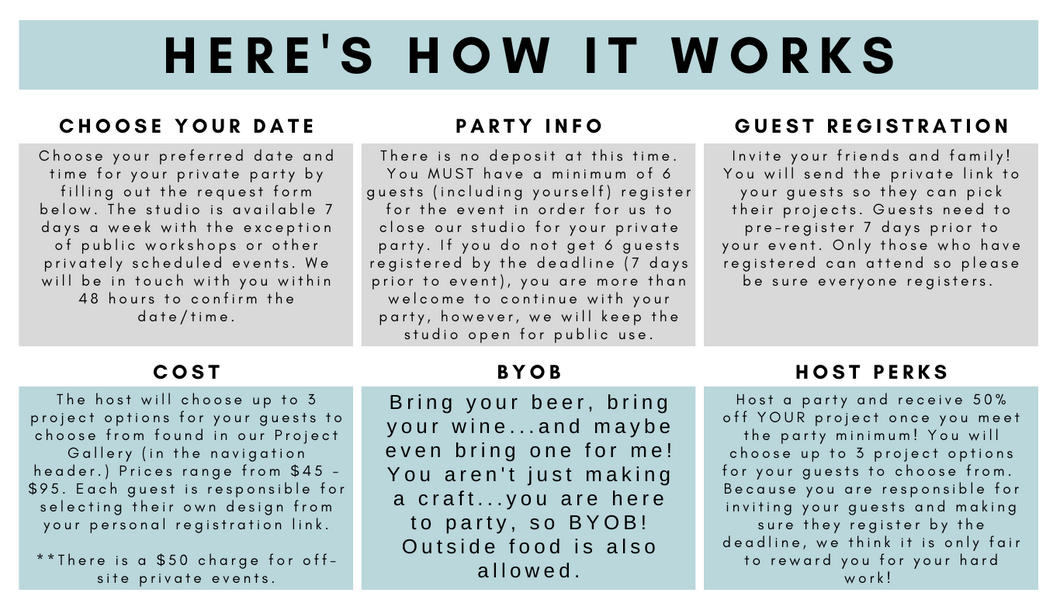 Private Party Info and Registration
Hammer & Stain Tempe
When you have big celebrations or there are "just because" kind of plans, having a party at Hammer & Stain Tempe is guaranteed to give your friends and family a creative experience they'll love and remember for a long time! Each guest will get to choose a project that speaks to them. We will ensure that everyone leaves with a project they'll love because it's not DIY, it's Do-It-Together!
**Please note that there is a $40 charge for off-site events. 
HOW TO REGISTER:
1. Chose in studio or mobile party from the drop down menu.
2. In the personalization boxes, please indicate your desired date and start time and let us know if this is for a special occasion! 
3. Check out! 
We look forward to partying with you!!
Terms
Once your order is submitted, we immediately begin the process of production. Due to the time and personalization involved in each project, we do not offer refunds. If you cannot make a workshop, you can take the kit as a Take Home Kit (we will hold it for 3 months). Rescheduling will result in a $15 studio fee, unless advance notice via email is received 6 hours in advance. Please email us at hammerandstaintempe@gmail.com. If you are a no-show for the workshop, you forfeit your payment. Hammer & Stain reserves the right to make any amendments to this policy at any time.